Saturday October 11 will be Hawaiian Shirt Day
Posted on October 3rd, 2014 by capclaveadmin
To honor the late Jay Lake, Capclave is declaring a Hawaiian Shirt Day for October 11th. Feel free to join in by wearing your favorite Hawaiian shirt on that day, especially in the Con Suite staring at 9 a.m.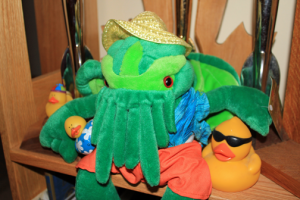 We were extremely saddened by Jay Lake's death in June at the age of 49, after a long battle with cancer. Jay wrote over 300 short stories
and nine novels and won the John W. Campbell Award for Best New Writer in Science Fiction in 2004. He approached his illness with fierce
determination, blogging about the experience, and finding ways to express what was happening to him with humor and courage, in order to
demystify the experience for others. We are honoring Jay with a Hawaiian Shirt Day on Saturday.
GeoContacts provided by GlutenEnvy.com